A genuine revolution has taken place in the pet boarding industry, and it's called…


Finally! Pet Boarding without Cages or Kennels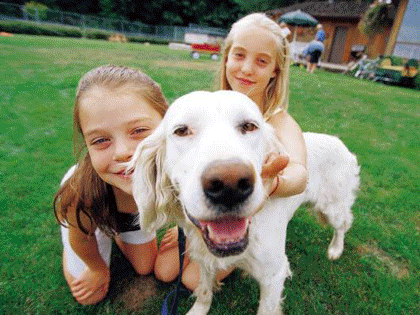 Think about what really makes your pet comfortable when you leave or go away. Often your pet pleads with you using that special, uncanny eye contact (that pets alone possess!) not to go. When you do leave, they take a snooze and wait for your return.
Now imagine leaving for a week instead of several hours. Your pet may not be able to tell time, but you can, and a week is a long time to be without those very things your pet lives for.
When most people go on vacation, they must impose either on their friends or family for the care of their pet or look to outside help. Traditionally, that outside help has been a standard kennel facility. You know, locking the pet up in a "cage." Nationwide, there has been an explosion of the family pet. Today's pet has become "a Member of the Family." Many families have put off having children until their late 30s or early 40s. This has resulted in the family pet becoming their child.
How special is your pet? If there were someone in your absence, who could provide a loving touch, a pat on the head, and soft familial tones of someone who cares about them, would you deny, even for a minute, the pleasure and reassurance your pet would derive from that experience?
Pets Are Inn boards/lodges customers' pets in private homes! And since the great majority of pets are thoroughly accustomed to living in a home environment, the discomfort, illness, and stress normally associated with kennel boarding is absent when in-home boarding is used.
Home vs. Kennel?
When it's a question of comfort and quality care for your pet, is there really a question where your pet would rather be?
And from the customers' point of view, do they really feel comfortable knowing their beloved pet is being deprived of the love, attention, and caring that is so much a part of their daily routine at home?
Fact is most families would prefer having their pet cared for in a loving…caring…"home environment." That's Pets Are Inn.


Pets Are Inn, Inc. is a Pet Business Corporation offering Pet Business Franchises, where each Franchise provides loving pet boarding in pre-screened, approved host family homes. Franchises are available throughout the United States.
Caring for pets since 1982, Pets Are Inn is the "#1 Alternative for Boarding Your Pet While You're Away" with "All the Comforts of Home."