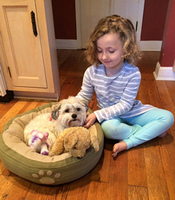 At Pets Are Inn, we know that you always miss your dog a lot while you are away. We don't want you to worry because your dog will be in great hands. We make sure your dog is a very happy camper with one of our great host families.
Your dog is matched up with a dog sitter that is just right for their needs. We also provide mandatory transportation services to pick up your dog and take him to the prescreened and approved host family he will be staying with.
Personal Attention & Exercise
Your dog will continue his daily exercises, have his favorite toys, and receive the love and attention he gets at home from his host family. When you leave on a trip, you can go with peace of mind knowing your dog is getting the love, petting, playing, walking, food and personal attention they deserve. We match your dog with his host family based on an extensive interview with you to determine his personality, needs, and routine. The more we know, the better the fit!

Packing List

Dog Boarding Health and Safety
If your dog becomes ill and medical attention is required, we will contact your veterinarian. If something should occur during non-clinic hours we will take to the closest emergency clinic. We have established affiliations with highly qualified veterinarians throughout the area. This ensures access to medical treatment 24 hours a day.
Your dog will also not be locked up in a cage or kennel. Cages and kennels can lead to stress, illness and discomfort. The only time your dog is put in a "kennel/crate" is if you provide one for sleeping and/or confinement when gone. This is one of many reasons why with Pets Are Inn is the best option when searching for a pet boarding service.
Wish to use our dog boarding services again?
We try to place your dog back with the same host family each stay so they can have a home away from home. Sometimes, however, that may not be possible because the host is already booked or on vacation themselves. Don't worry, we have many loving and qualified host families who would also be happy to welcome your dog into their home!
Take a look at our rates and make a reservation today!
Pets Are Inn, Inc. is a Pet Business Corporation offering Pet Business Franchises, where each Franchise provides loving pet boarding in pre-screened, approved host family homes. Franchises are available throughout the United States.
Caring for pets since 1982, Pets Are Inn is the "#1 Alternative for Boarding Your Pet While You're Away" with "All the Comforts of Home."