Provide personal and loving care for cats by cat sitting while their owners are away on vacation. Pets Are Inn will match you with the cat that best suits you and your environment.
Benefits of Being a Cat Sitter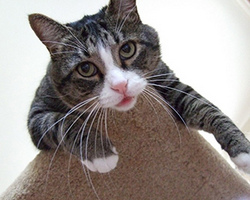 Our cat caretakers enjoy caring for cats without the long-term commitment and cost. They get to care for a variety of breeds and types of cats without the cost of owning a cat. They also get a small per diem, however, most of our pet sitters don't do it for the money. They do it for the companionship and occasional cuddles with a kitty.
The cat's health and safety
You will be given the cat's schedule, medications, and meal plan. It is important to continue to make it as similar of an experience as possible to the one at home. The owner sends everything you need and Pets Are Inn provides the transportation, you provide the love and care. If you have another cat or pet in your house, we will not be able to place them in your home. 
If the cat had a great experience, we will try to place the cat back with you for each stay if possible. Cats take a bit longer to adjust to a new environment, so it is easier when they return to a place they already know.
If the cat should get sick and it is during normal clinic hours we will contact the clinic that the owner has given us. If it is during non-office hours then we will contact the nearest emergency vet clinic. We will work with you to get the cat to the vet clinic ASAP.
Pets Are Inn, Inc. is a Pet Business Corporation offering Pet Business Franchises, where each Franchise provides loving pet boarding in pre-screened, approved host family homes. Franchises are available throughout the United States.
Caring for pets since 1982, Pets Are Inn is the "#1 Alternative for Boarding Your Pet While You're Away" with "All the Comforts of Home."