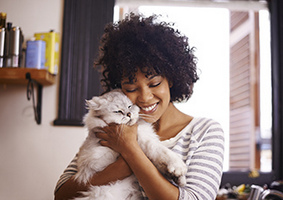 Our cat boarding services provide your cat with a very comfortable and caring environment in a private home when you are away. We want to make sure both you and your cat are at ease while you are gone. It may be very hard to leave your cat for a period of time, but know your cat is in the best hands with one of our host families. In most cases, your cat will be the only cat in the home: we understand that most cats don't like other cats. Please contact your franchise for more specifics about cat boarding.
** Our Plano and McKinney/Frisco, TX franchises do not typically board cats. Please contact them for more information.
Cat Boarding Process
When you call to make a reservation, we will perform an interview over the phone to get essential information about your cat. This is what we use to place them with the right host family. When your boarding date arrives, Pets Are Inn provides mandatory transportation services and will bring your cat to the home he or she will be staying at. Pets Are Inn will not board un-altered adult cats.

Packing List
What can you do before you go?
Your cat will be staying at a host family that Pets Are Inn selects based off of the interview we do over the phone. If your cat is not de-clawed, we also ask that his claws have been recently trimmed before boarding. Please check our packing list to make sure you send everything your cat will need during their stay. If you do not own your own cat carrier, please let us know in advance and we can provide one.
Health and Safety
If your cat becomes ill and medical attention is required, we will contact your veterinarian. We have established affiliations with highly qualified veterinarians throughout the area. This ensures access to medical treatment 24 hours a day.
Just know that your cat is not locked up in a cage. Your cat is in a home where he is free to roam around and explore. Your cat will also maintain their daily routine, medication, food and exercises. Your cat will not be wandering an empty home all day. We make sure that your cat is placed in a home where the pet sitter is home a certain amount of time every day.
Want to check up on your cat?
If you are looking to check up on your cat during the cat boarding period, you may contact the local office and we will contact the host family and get back to you.
Pets Are Inn, Inc. is a Pet Business Corporation offering Pet Business Franchises, where each Franchise provides loving pet boarding in pre-screened, approved host family homes. Franchises are available throughout the United States.
Caring for pets since 1982, Pets Are Inn is the "#1 Alternative for Boarding Your Pet While You're Away" with "All the Comforts of Home."